Graphs: Student Enrollments (18th century)
1. Average Enrollments, as a percentage
2. Average Enrollments, as a percentage (with total enrollment line)
3. Average Enrollments, in actual numbers
4. Enrollment at Königsberg
The following three graphs show, in five-year data sets drawn from Eulenburg [1904], student enrollment for each university, ordered along the Y-axis from oldest to youngest. These same data are also available as a table.
The first two graphs show the percentage enrollment that each university enjoyed of all students enrolled in German universities during the period. As the second graph indicates, this total enrollment dropped from an estimated 8807 students in 1700 to an estimated 5990 students in 1800. The third graph displays the enrollments in actual numbers rather than as percentages of the whole.
As these graphs show, student enrollment rose and fell through the century, but then fell precipitously in the closing decades. Some schools were able to hold on to their share in the face of these declines (e.g., Halle and Leipzig each with about 10%). Some schools like Göttingen were able to grow in absolute numbers, but this was the exception, and quite a few of these universities would soon be closing their doors.
Average Enrollments, as a percentage [top]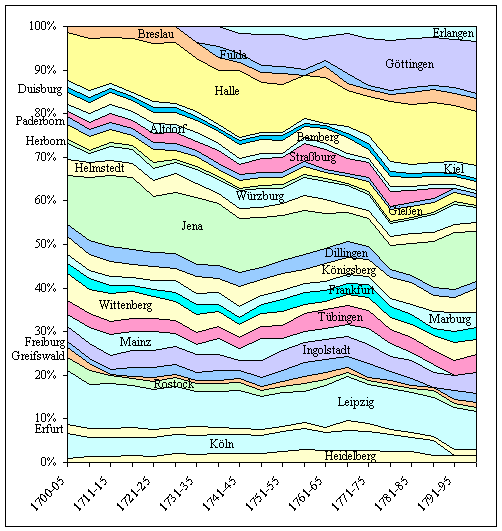 Average Enrollments, as a percentage (with total enrollment line) [top]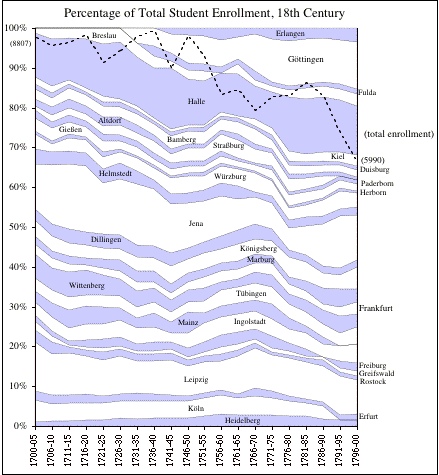 Average Enrollments, in actual numbers [top]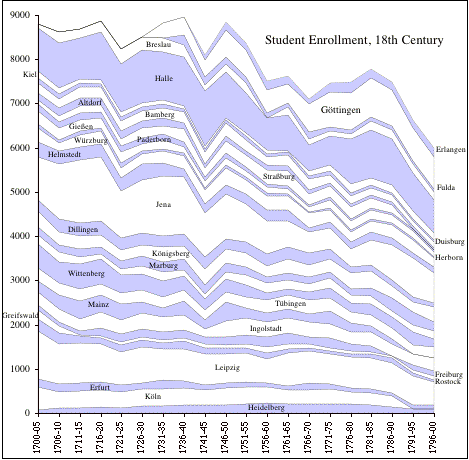 Enrollment at Königsberg [top]
The following graph depicts the annual inscriptions (black line) and estimated total enrollment (pink line) at Königsberg during the 18th century [Eulenburg 1904, 164, 294-8]. Ischreyt [1995, 32] offers a graph of matriculation numbers (based on Erler [1895-1902]) from the years 1750-1800, segregating out the numbers for Prussian and non-Prussian matriculants as well.
One might have expected a slight enrollment increase after the publication of Kant's Critique of Pure Reason, which did in fact win him considerable notoreity; instead we see a rather precipitous decline during the 1780s. This drop in enrollment mirrors similar declines across the German universities, however, and therefore likely has little to do with local events.
The upward trend at the end of the graph is born out by Hartung [1825, 272] who noted that the current enrollment at the university during SS 1825 was 392, with the following composition: 100 theology students (6 of whom were non-Prussian), 169 law students (6 non-Prussian), 43 medical students (8 non-Prussian), and 74 philosophy students (4 non-Prussians).