The Very Busy Spider
by Eric Carle
Intended Grade Level: 1st and 2nd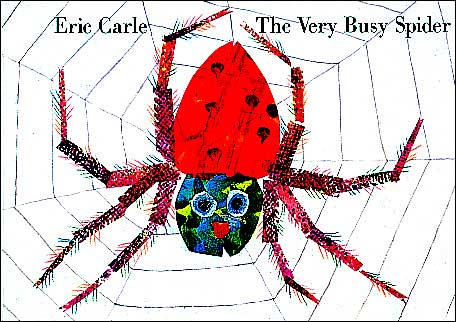 Summary of book
A number of farm animals try to distract a spider that is busy spinning her web. Unable to be distracted, the busy spider is relentless in her work and doesn't stop until her work is complete. Because of her determination, she ends up with a beautiful and useful web. Colorful pictures can be seen as well as felt.















About the Author
Eric Carle was born in Syracuse, New York in 1929. When he was six years old he moved with his parents to Germany. After graduating from art school Carle made his return to American where he became a well known and loved author and illustrator of picture books for very young children. His technique is very distinctive and instantly recognizable by readers because he uses a collage technique for his illustrations, using hand-painted papers, which he cuts and layers to form bright and cheerful images. The themes of his stories are usually nature related, which he believes is an interest shared by most small children. Carle's goals for his books is to always offer the child the opportunity to learn something new about the world around them. Some of his most famous works include The Very Hungry Caterpillar, Brown Bear, Brown Bear, What Do You See?, and Polar Bear, Polar Bear, What Do You Hear?.
official website
Complete the following activities, in the order they are listed.
Before you read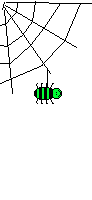 Activity One:
Before reading "The Very Busy Spider" follow this link to print the spider handout. After printing the handout, on each of the spider's 8 legs, write a word that begins like spider (sp) beginning. In the body of the spider, write everything you know about spiders and also what you would like to learn about spiders. For example, you may know that all spiders have 8 legs or you may want to know why spiders don't stick to their own webs.
Activity Two:
This Link will lead you to a list of spider facts. After reading over the facts, write about the facts that you thought were the most interesting or that surprised you the most. You must choose at least two of the facts. Make sure to include why you thought they were interesting or if you have a particular fact you would like to know more about. You will later use one of these facts in a spider story that you will write.
Reading
Activity Three:
While reading "The Very Busy Spider" use this worksheet to keep track of words that you don't know or understand. Next to the word, write what you think it may mean just from reading the book.
Activity Four:
Go to the web dictionary and check your definitions for each word. If it is not correct, fill in the correct definition. Then write a sentence correctly using the word and it's meaning.
After Reading
Activity Five:
After reading "The Very Busy Spider" follow this link to print the outline so you can write your own spider story. Be sure to include one of the facts that you found most interesting from your "before reading" activity in your story.
Activity Six:
After writing or typing your spider story, follow this link to draw a picture online. The picture should relate to your story somehow, whether it be a picture of your spider or another one of the characters in the story. Be creative with this! Make sure to print your picture when you are done.
Activity Seven:
Follow the link to color this picture online. Make sure you also read the poem, "Little Miss Muffet", that is below it.
Little Miss Muffet Coloring Activity
grading rubric:
1. Print off this grading rubric.
2. Gather all of your printouts and worksheets and put them in the order that you did them.
3. Put the grading rubric on the top of the pile.
4. Make sure your name is on the top of the rubric
5. Staple your pile and hand in the packet.
* Remember that you should have 6 activities to turn in.
Other Books by Eric Carle
The Very Hungry Caterpillar
Does A Kangaroo Have A Mother Too?
A House for Hermit Crab
The Foolish Tortoise
The Greedy Python
website created by
Heather Terflinger