The Mixed-Up Chameleon
Written and Illustrated by:
Eric Carle
Have you ever wished you could change into something or someone other than yourself? Well if you have you can relate to the Chameleon in this story, The Mixed-Up Chameleon! The Mixed-Up Chameleon is a story about a Chameleon who's everyday life is not very exciting until the day it discovers it can change more than just its color. It can change its shape and size too! One day the Chameleon sees a wonderful zoo full of animals, it immediately wants to be like them-and ends up being like all of them at once-with hilarious results. In the end the chameleon learns a valuable lesson about being himself.......... So lets read!
Lets get to know the author........Click here to learn more!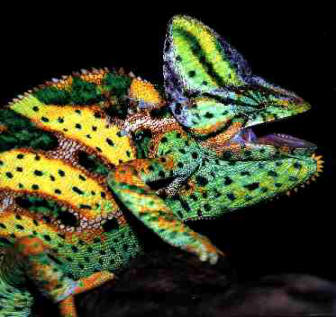 Before reading Lets find words we will see very soon.....CLICK HERE! and print it!
Lets learn about Chameleons.... Click Here!
While you're reading
Take the word search you have completed and place a check next to each word when you hear or see it! Circle the words that the chameleon changes into!
Complete this worksheet while you read! Read the worksheet Before you begin reading the book! Click Here and print out the worksheet.
After reading
Print out this worksheet by clicking here and printing!
Lets pretend that the chameleon is at a farm now. What might he look like after changing into different barn yard animals? (Using your print out transform the chameleon by adding parts of barn yard animals to him. Be creative, use lots of color and have fun!)
In the story you met a chameleon who didn't like the way he was. In the end though he sees that being unique is a good thing and he wants to be himself again. Using this print out create an I am Poem and discover what makes you unique! Click Here and Print.
Assess Yourself!
This Website was created by: Melissa Clemens (2007)
CREDITS
Clip art provided by; Google images
Rubric provided by: rubistar.com
Crossword provided by: Puzzlemaker.com
coloring page provided by:www.first-school.ws/theme/animals/cp_reptiles.htm