These web pages show artwork of James R.C. Adams, professor emeritus of art at Manchester College, North Manchester, Indiana. Mr. Adams has both an A.A. and a B.A. from George Washington University and an M.F.A. from the Instituto Allende of the University of Guanajuato, Mexico. He also studied for three years each at the Corcoran School of Art in Washington, D.C. and the Ruskin School of Art at Oxford University. He has traveled extensively, and this shows in much of his artwork.
Art that is for sale has been grouped into paintings and drawings. All are shown with thumbnails and titles. If you are interested in purchasing any item, please contact the artist at jrcadams@frontier.com or jrcadams@manchester.edu.
To view the collection of paintings, please select paintings.
To view the collection of drawings, please select drawings.
James Adams at the 2006 unveiling of his art commissioned for the Science Center at Manchester College.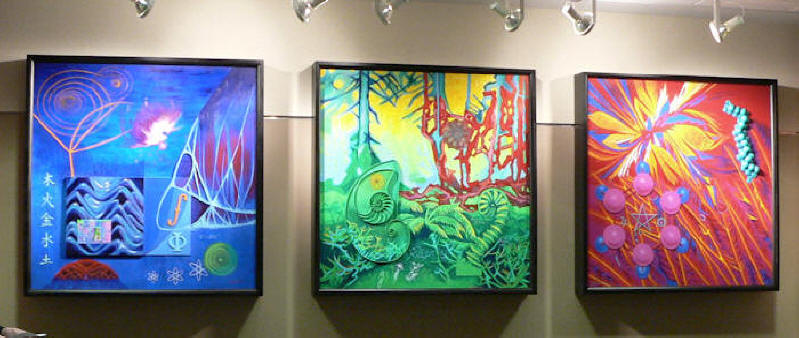 This triptych is the artist's conceptualization of aspects of mathematics, physics, biology and chemistry. These paintings hang in the ground level lobby of the atrium in the Manchester College Science Center.