Where the Sidewalk Ends
There is a place where the sidewalk ends
And before the street begins,
And there the grass grows soft and white,
And there the sun burns crimson bright,
And there the moon-bird rests from his flight
To cool in the peppermint wind.

Let us leave this place where the smoke blows black
And the dark street winds and bends.
Past the pits where the asphalt flowers grow
We shall walk with a walk that is measured and slow,
And watch where the chalk-white arrows go
To the place where the sidewalk ends.

Yes we'll walk with a walk that is measured and slow,
And we'll go where the chalk-white arrows go,
For the children, they mark, and the children, they know
The place where the sidewalk ends.
- Shel Silverstein

Favorite Quotes:
"A spoonful of sugar helps the medicine go down, in the most delightful way" -Mary Poppins
"I will not play tug o' war. I'd rather play hug o' war. where everyone hugs instead of tugs, where everyone giggles and rolls on the rug, where everyone kisses, and everyone grins, and everyone cuddles, and everyone wins." -Shel Silverstein

"A persons a person, no matter how small." -Dr. Seuss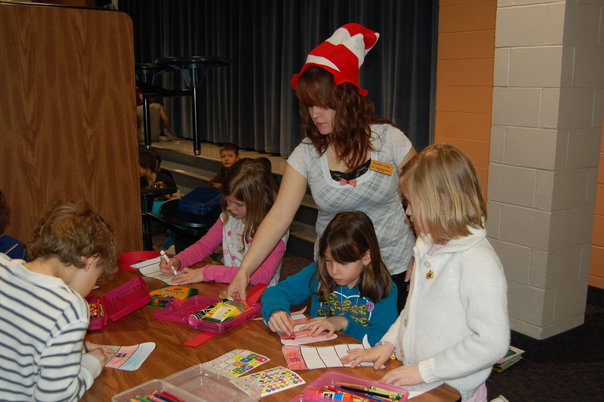 Manchester Elementary School celebrated Dr. Seuss's birthday, and I was there to help them make hats and a HUGE birthday card!

This is my sister Heather, she is my best friend. Isn't she beautiful?