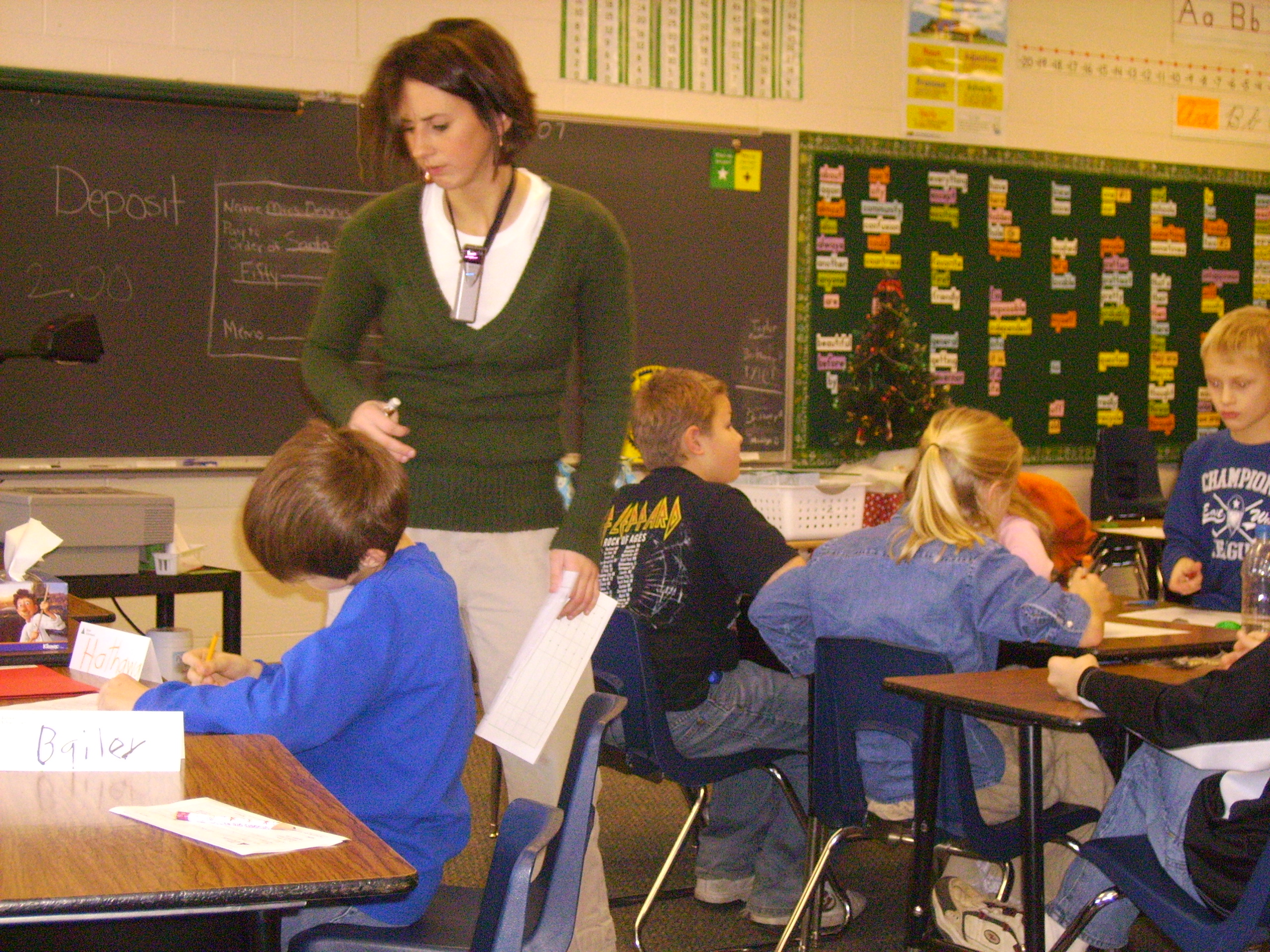 Portfolio
Introduction
I. Curriculum: Constructs and Deliver Appropriate Curriculum for Students

C1 – Relates content knowledge to other subject areas
This paper takes a look at my liberal arts education, explaining the importance and value of the classes I have taken at Manchester College.
This mini unit covers global warming, a topic that was discussed thoroughly in English 364. This small unit shows my ability to take content knowledge and relate it to other subject areas.
C2 – Teaches subject matter accurately
This lesson on ordinal numbers teaches students how they are used and then allows students the opportunity to practice their use.
This is an introductory health lesson on how germs can spread.
This was an evaluation completed by my supervising teacher after an introductory health lesson on spreading germs.
C3 – Teaches content from multiple viewpoints
Social Studies/Writing Lesson on the Underground Railroad:
This lesson has students writing from the perspective of either a runaway slave or a conductor on the Underground Railroad.
This was a project done in a Mild Interventions course that allowed me to experience what it would be like to be blind for a day. This is the reflection that was written after the experience.
C4 – Teaches students to use critical thinking and problem solving strategies
This lesson is based on the 5 E method allowing students to first be engaged, then to explore, followed by a teacher explanation, students then elaborate on the concept, and the teacher evaluates.
5 E Science Lesson
This lesson is based on the 3 E method in which the teacher first engages the students, then allows them explore, and lastly evaluates.
C5 – Models appropriate oral communication
This document displays my ability to communicate orally with another professional; for this assignment I was asked to interview a teacher about reading instruction.
C6 – Models appropriate written communication skills
This paper was written for Experiencing the Arts, and demonstrates written communication skills.
C7 – Teaches from a personal philosophical base
Credo :
This paper takes a look at three educational theories, explaining what I wish to take from each of them as future educator.
This paper explains my philosophy on teaching social studies in the classroom, and how it can be integrated in to other subjects.
C8 – Uses interdisciplinary instruction as appropriate
This unit over the Civil War integrates subjects such as math, music, and science.
This algebra lesson studies terms to help students identify which operation to use when creating an expression.
C9 – Uses effective questioning strategies
This document contains questions from each of Boom's levels.
This lesson was created for a student with reading difficulties. In the lesson comprehension is addressed using Bloom's Questioning.
II. Assessment: Assesses students' learning and development with a variety of measures

(*Include 5 sample assessments)
A1 – Develops appropriate tools to assess learning
This document was handed out to students as a guideline for their health assessment. It explains all the requirements for the poster.
Health Rubric for Assessment :
This is a rubric that was designed to assess the posters that were created by students to wrap up a health unit on germs.
A2 – Assesses learning through standardized and teacher-constructed tests
This document assesses a student's reading strengths and weaknesses through the completion of an Informal Reading Inventory.
This is a quiz that I created in order to assess the information that was retained from a lesson on the Civil War.
A3 – Assesses learning through appropriate alternative measures
This document assess a student's behavior through observation.
A4 – Keeps records to determine and report student progress
This document examines a reader through observation, looking for strengths and weaknesses in order to develop an appropriate plan of action.
III. Relationships: Establishes professional and reciprocal relationships with other invested in students' learning

R1 – Collaborates with students, colleagues, parents, and community agencies, exhibiting sensitivity for cultural diversity (samples of letters, memos to students and parents, including progress reports)
This is a parent letter that was sent home introducing myself as a student teacher.
This lesson plan was designed with a peer. It shows my ability to work together and communicate with others.
R2 – Acts with full awareness of ethical and legal responsibilities of teachers
Awards; memberships in professional organizations\
This evaluation shows that I act with full awareness of the legal responsibilities of a teacher.
R3 – Values life-long learning and personal/professional development
Participating in campus activities
Manchester Pre-Professional Workshop
This certificate of attendance was given at one of Manchester College's Pre Professional Workshops for education majors. These conferences allow students opportunities for professional development.
This attendance certificate to the IAEYC conference shows that I value life long learning and professional development.
R4 – Engages in research and reflection on teaching practices
This is a reflections paper from an observation in a special needs preschool.
Content and Methodology Paper:
This paper reflects on the education courses that I have taken at Manchester College.
R5 – Exhibits a service orientation to students and teaching, valuing all aspects of students' well-being
This document is a reflection of my experience tutoring for two kindergarteners.
This document was written reflecting on my volunteer experience at Manchester Church of the Brethren Preschool.