Stellaluna
Written and illustrated by Janell Cannon
Intended for third grade
Designed by Sara Kauffman and Dana Zehring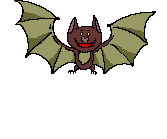 Please read each set of directions completely. Complete all activities in the order that they are presented. You will need to turn in each activity, along with the rubric at the end.
Materials:
1. Stellaluna book by Janell Cannon
2. Notebook paper
3. Pencil
4. Crayons
Background:
Stellaluna is flying with her mother when an owl knocks her into a bird's nest. Stellaluna begin to act like a bird, but she still feels different sometimes. She does not like the food that they eat and misses hanging upside down. One night she flies ahead of the birds and has to sleep on a tree branch all by herself. Other bats meet her there and one of them is her mother! Stellaluna introduces her mother to the birds. The birds cannot see at night, so Stellaluna saves them.
Janell Cannon was born in Minnesota in 1957. She loves animals, especially bats, snakes, and insects. She taught herself how to write and illustrate children's books. She worked as a librarian until she became published, when she devoted her time to writing. She wrote Stellaluna in the hope of eliminating fears of bats.
Prereading:
1. Print off the Stellaluna KWL chart and write at least three things on what you know and what you want to know.
2. Take out a clean piece of paper. Draw and color with crayons what you think a bat looks like.
Reading:
1. Print off the Stellaluna storymap. Fill in the circles with questions and interesting information you find while reading Stellaluna.
2. Print off the Stellaluna venn diagram. Fill in the circles with characteristics of bats and birds. The similar characteristics should be in the middle where the circles overlap.
After reading:
1. Take out a blank sheet of notebook paper. Write about someone who is different than you. This could be a real person or a made-up person. This can be in the form of a story, letter, poem, or song. Make sure it is at least eight sentences long.
2. Play a bat game and then write a reflection on the game and what you learned. Go to connect the dots or bat homes. Include at least four sentences in your reflection.
Assessment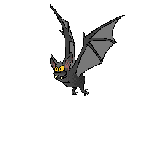 1. Print off the rubric and turn it in with all of your assignments.
2. Make sure that your name is on everything.
3. You should have six things to turn in.
*Rubric based on one found on http://teachers.teach-nology.com/cgi-bin/webquest.cgi
*Book picture comes from http://www.teachervision.fen.com/page/1738.html
*Clipart taken from http://www.gifanimations.com/ and http://office.microsoft.com/clipart/default.aspx?lc=en-us