Diary of a Spider
by Doreen Cronin
illustrated by Henry Bliss
Intended Grade Level: 2nd and 3rd
Website created by Jenny Hintz
Summary of the Book: In Diary of a Spider, a young spider describes his life. He talks about his friends Fly and Worm, who often don't understand him and his ways. Spider also describes his school, where he learns how to travel by "catching the wind" and how to escape when a sweeper starting running next to him. Spider then describes how he enjoys scaring people in his free time! At the end of the book, Spider states that he wishes people wouldn't judge him. Although he is a spider, he likes to get along with everyone!
About the Author: Doreen Cronin was born and raised on Long Island in New York. Her father was a police officer who loved to make her laugh. After working for a publishing company for a while, she decided to go to law school. She worked as a lawyer for several years, but after her father died she wanted to create children's books that would make others laugh. Doreen Cronin has written many successful children's books, which include Click Clack Moo, Cows that Type and Giggle Giggle Clack. She now lives in New York City with her husband Andrew and their daughter Julia.
To find out more about Doreen Cronin, check out her official website!
BEFORE STARTING THE ACTIVITIES, PRINT OUT THIS RUBRIC!
Pre-reading
Before reading, complete the following two activities!
Activity # 1: Complete a quickwrite, listing the facts that you know about spiders. Print off the SPIDER QUICKWRITE here!
Activity # 2: Print off this FACT SHEET about spiders! After reading the fact sheet, turn the paper over and write one fact about spiders that interests you. Then write two reasons that describe why that fact is interesting to you!
During Reading
During reading, complete the following two activities!
Activity # 1: Open this VOCABULARY PAGE. As you are reading, write the definition of these words. Use context clues! If you need help, feel free to use an ONLINE DICTIONARY!
Activity # 2: Print off this POSTCARD. Fold the paper in half to form a hamburger bun. Using the side of the postcard that has Spider's address on it, write a message to him about something that happens in the book! Then on the other side of the postcard, draw a picture that relates to the book!
After Reading
After you are done reading, complete the following two activities!
Activity # 1: Open Microsoft Word. Write a journal pretending to be an animal of your choice, describing its life. You need to write at least two journal entries that are each a paragraph long.
Activity # 2: To email Doreen Cronin, go to her official website! Scroll down and click on "Email Me" on the right side of the page. Tell her what you liked or didn't like about Diary of a Spider and why! BE RESPECTFUL! You can also give her tips about animals or events that she could use in future books! BEFORE SENDING THE EMAIL TO HER, PLEASE PRINT IT OFF!
You should have six papers and a rubric to hand in. Staple the papers together and hand them in.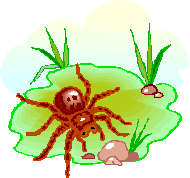 Postcard adapted from picture on page 24 in Diary of a Spider by Doreen Cronin
Graphics from Microsoft FrontPage